My laptop is my life line. Since I am going back to school the most successful way I could think of to do so was doing it online. Between that and all my social networking,
the poor thing is constantly on. When I am not on it you can guarantee either the Weatherman is checking out his Husker Blogs, or Little dude is hanging on Kidoz or Webkinz. Needless to say there is stuff constantly being uploaded, downloaded, saved (mostly needlessly) all over my laptop. I had been talking to the weatherman just last week about figuring out an easy way for me to clean it up and make it run faster. Some how the Internet Gods were eavesdropping in on the conversation with us and I received an email asking if I would review a product called
Windows 7 TuneUpSuite 4.7.1951
from a company called
Windsty.com
.
I was a little taken back, me do a review for a real software non kid related? As long as it is not too difficult I figured I could stumble my way through it. First I was all in a tizzy, I knew I should have taken that free Windows 7 when it was offered to me to review from the school, because however could I review this when I didn't have Windows 7? See, I just usually don't do software reviews, period. No reason to try to do something with an entity that is likely way too far above my pay grade! Gawd forbid if I type in something wrong and BOOM, another dead laptop (Though I was assured as I was not the one using it when the last one died, it couldn't have been my fault). But, it's begining to run so slow, I needed to do something.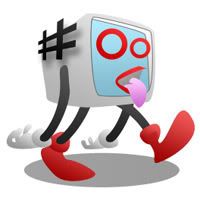 Now, I here I sit with an offer to clean up my computer, and I don't have Windows 7 as I stated above. I was told in my communication email not to worry if I didn't have Windows 7 yet, because this software supports: Windows 95/98/ME/NT/XP/2000/2003/Vista x32, Vista x64, and of course Windows 7. I knew I was running on some sort of Vista (see again showing my smarts!)
I thought since I was complaining about the slowing down of this laptop, I would give the folks at
Windsty.com
a shot. The first thing I did after downloading the software was do a Disk Space analyzer, Umm yeah needless junk everywhere. In places I didn't even realize! I went to duplicate files finder next as I am the queen of loading something about 10 times if I can't find it right away (still wondering why the computer was running slow?)! I had over 1543 items, that's over 700 duplicates (mostly pics in my defense) this program dug up! I erased them. And went to the Junk Files Cleaner next, I am BFF with this part of the software, again useless junk all over the computer, including entire programs downloaded on my extra drive, and I didn't even know about. I also found the missing assignment for art class I redid last fall because I couldn't find it, it was hidden in another drive.
Windows 7 TuneUpSuite
, considered it junk, what a coincidence, I considered that class the same thing!
According to the site, "
Windows 7 TuneUpSuite
is your all-purpose tool for better PC maintenance and security. Plus, it protects your computer from system crashes, repairs and maintains your PC health, removes unneeded Internet clutter, regains valuable disk space, cleans your registry and tweak windows to perform better." As a just a notch above novice computer geek, I would have to agree. The steps to do each are straight forward, and as it says removes clutter. I was also thrilled with the fact I could find the cleaning stuff all in once place with such ease. So if your computer is running slow, and you are looking for a one stop easy place to get a quick tidying up of the ol' computer, I would suggest heading over to the folks at
Windsty.com
and look at all the cool software products they have to offer, including the
Windows 7 TuneUpSuite 4.7.1951
Now my computer is running faster, making me happy, and I am guessing it's happy too!
*To comply with the new federal regulations, I am to disclose if I have been compensated for this review. As I write this review I have received no compensation for my review. I used the trial available to anyone.*